Join Our Waitlist
Learn More About Shopper Watchlist
Shopper Watchlist is your new secret weapon to help you stay connected with your website shoppers in real time, alerting them the second their vehicle of interest shows up in your inventory.
These real-time text notifications give you fully verified cell phone numbers so you're able to stay in touch with visitors that are shopping on your website.
This new secret weapon will help you conquer your competition, stay engaged with your customers, and maximize your future inventory pipeline.
How does it work? A shopper joins your Inventory Watchlist by selecting the type of models they would like. Once they join, in 2 clicks, they are automatically notified when those vehicles are back in your inventory. Turn your website visitors into customers with Shopper Watchlist.
Join Our Waitlist Below and Get Notified: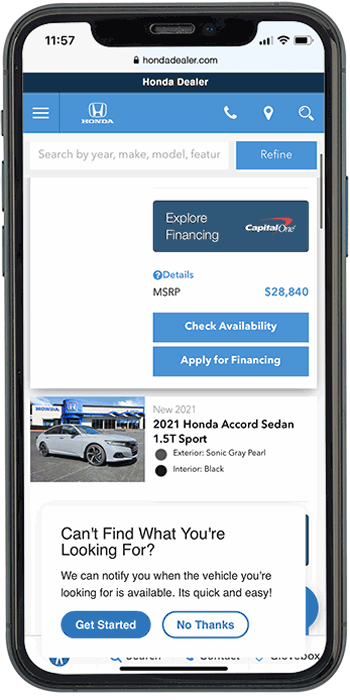 SITUATION
A Boston-area Nissan dealership struggled with traffic landing on their website and failing to convert
ACTION
The dealership engaged Launch Labs to assist with their missed opportunities and installed the Ignite audience engagement platform on their website
RESULT
Total lead count for the dealership increased 14% month over month. 62% of engaged traffic returned to the website after receiving an offer.
SITUATION
A Nevada area Kia dealership was interested in increasing their sales volume without spending extra money on advertising
ACTION
The dealership installed the Ignite Audience Engagement platform on their website and supplied compelling offers targeted to their top audiences
RESULT
Month over month sales count increased by 20 units. Ignite's offline sales attribution credited platform engagements with touching 21 of the sales that month

SITUATION
An Atlanta-area Honda dealer wanted to get more from their existing advertising spend, their primary focus was increasing sales volume
ACTION
The dealership installed the Ignite Audience Engagement platform on their website and supplied compelling offers targeted to their top audiences
RESULT
More than $44,500 in sales revenue was attributed to the platform and over $14,500 in additional service revenue
TESTIMONIALS
What our customers say
"Over the last 40 years owning dealerships, I have explored nearly every option in marketing. We have been able to reduce our marketing spend while increasing sales and lowering down cost per sale since we implemented the Ignite platform from Launch Labs. "
"I got more than 475 new Honda leads for month of April in 2021 directly from the Ignite platform. We were able to sell 20% of those leads as new cars. I wish I had Ignite sooner. They should be charging more for this!"